World ATM Congress 2019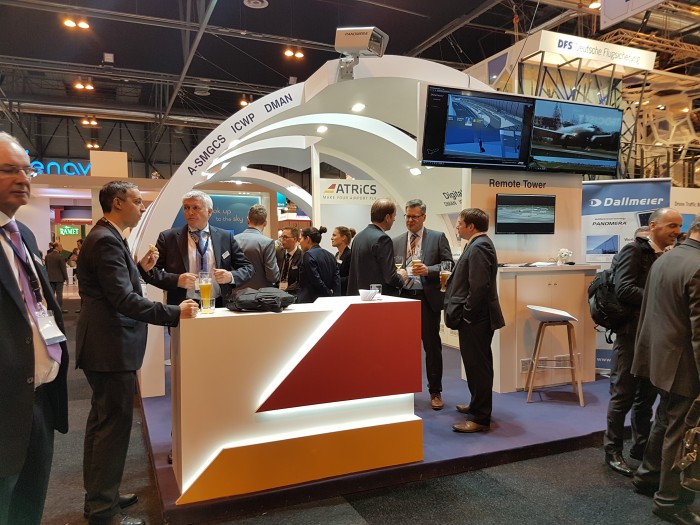 It's been extremely busy on the ATRiCS booth during the last three days. ATRiCS has had a great show and World ATM Congress has for another year proven to be the prime event of the ATM industry. This year's congress has again seen a significant increase in visitors. Delegations from many different air navigation service providers and airports, existing customers and new faces, have come to see us and were given demonstrations of the ATRiCS TowerPad® as well as of our departure management system. In addition many partner companies have stepped by our booth to see ATRiCS' latest developments.
One of the new exhibits on our booth attracting great interest from delegates is the Dallmeier Panomera® camera. We have had many fruitful discussions on Remote Tower Optical Systems (see also our press release on Dallmeier-ATRiCS cooperation) and the lively debate in our community on remote tower operations.
During the show ATRiCS has been very honoured to sign a Memorandum of Understanding with Seychelles Civil Aviation Authority on a close cooperation for an ATM automation system for tower and approach control services as well as Remote Tower Optical Systems in the Seychelles Flight Information Region. (see also our press release on SCAA-ATRiCS MoU).
ATRiCS CEO Wolfgang Hatzack also signed a Memorandum of Understanding with GAL Air Navigation Services, United Arab Emirates, to collaborate on training and operational areas to advance the ATM industry. (see also our press release on GAL-ATRiCS MoU).
ATRiCS is also very pleased to announce our activities for Manchester Airport and London Stansted Airport where Manchester Airports Group decided to rely on ATRiCS proven departure management system. (see our press release on ATRiCS-MAG)
In this industry, full of exciting opportunities for all stakeholders, the ATRiCS team have tremendously enjoyed the lively event full of networking with highly motivated participants. World ATM Congress is a unique annual get together of the ATM community and industry and a great moment to gather information, discuss ideas and strengthen relationships.